Your Fulton Electrician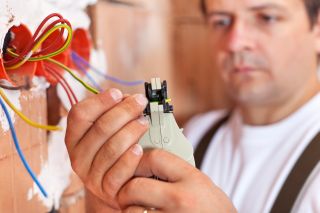 When the time comes that you need a professional Fulton electrician to work with, will you know who to call on? One of the most common mistakes that homeowners make is waiting until they are in the middle of a crisis to try to select the right expert to work with. Unfortunately, in the midst of an emergency, what you usually end up doing is hiring the first name that you come across who answers the phone.
That doesn't make for the best qualifications for hiring someone to work on the most vital aspect of your home. What you will learn is that people who invest the time into researching which San francisco Electrical expert would be the best, always choose Brookline Electric Co. This could be due in part to the fact that we have been the local leading service provider for over four decades now.
We work with both residential and commercial clients, in order to provide the best service for local homes and businesses. We take this line of work seriously, and that is evident from the results that we are able to get for our clients. Don't settle for inferior workmanship when it comes to a system as important, and as potentially dangerous, as your electricity.
24/7 Electrical Repairs For Fulton
Many homeowners want to know what exactly makes us the number one choice for electrical repairs, and all electrical work. It is a fair and wise question, one that all consumers should delve into before entrusting someone to take care of the most important system in their residential or commercial structure.
Some of our credentials include:
It certainly helps that we are available for our clients, 24 hours a day and 7 days a week. This includes holidays and weekends. We feel it is important to be there for our customers, when they need us the most. We offer same day service because you should not have to wait for work on something as important as your electrical system.
We have over 40 years of hands on experience. Company founder and owner, John Peters, is a Master California Electrician and all of our team is licensed and insured.
We can take on just about any type of service need that you have. We work with both residential and commercial customers, for big and small jobs.
Commercial Electrical Services for Fulton
Brookline Electric Co. is the only name that you need to know for commercial electrical services, as well. You want to be able to keep things running smoothly and safely and we are just the team to help make that possible for you. Call today to get your system running and all of your electrical service work taken care of.
If you are looking for a commercial or residential electrician in Fulton, please call or text 415-239-5393 or complete our online request form.