San Francisco Smoke Detectors Installation Service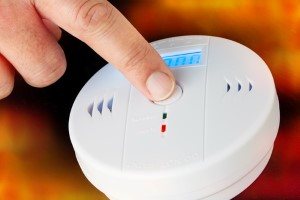 In over half the houses we go into, our San Francisco electricians find the smoke detectors or fire alarms have been deactivated, are missing a battery, or the battery connection has been unplugged. Portable smoke detectors with just a regular battery are a problem, as are the ionization smoke detectors which contain radioactive material. Good smoke detectors come with a 10-year lithium-ion battery. In fact, The San Francisco fire codes now require sealed 10-year lithium ion batteries even in AC powered smoke alarms. With photo electric smoke alarms, you'll also have less trouble with tenants abusing or getting rid of the units. Brookline Electric Co. installs new smoke detector units in San Francisco which are photo-electric. They are not as sensitive to shower steam, cooking odors or tobacco smoke, as are ionization smoke alarms minimizing the number of irritating false alarms. Our smoke detectors offer several other advanced features:
10-year lithium-ion battery
LED light sensors
Non-radioactive
Combination Smoke Detector & CO Alarms available
Hush button which allows alarm to be silenced for 15 or 20 minutes
If you own a residential building or a home in San Francisco, call our experienced, local electricians for smoke detectors installation
services
. We'll be glad to answer any questions you may have.
Smoke Alarm Safety Requirements For Building Owners
If you own a residential building in San Francisco, the new safety code requirements for tenants affect you. The requirements are for buildings with more than three units. Owners need to provide residential tenants a notice posted in common areas which include updated information on fire safety and smoke alarm requirements and fire safety related information. You'll also need to file and post a Statement of Compliance form for annual fire alarm testing and the owner's contact information at the building entry. You can contact the San Francisco Fire Department for details.
Smoke Alarm Installation Requirements
New safety codes require the installation of smoke and CO alarms in the bedrooms of each floor if there is a gas or oil burning appliance in the building or an attached garage. Smoke alarms should always be installed outside bedrooms unless the room is converted to other uses besides sleeping. Smoke and CO alarms should NOT be installed near fuel-burning appliances. On levels without bedrooms, install alarms in the living areas and near the stairway to the upper level. Basements should also be fitted with a smoke alarm. Regulations require them to be installed at least 10 feet from a cooking appliance and 3 feet from bathroom doors.
About Carbon Monoxide Alarms
CO poisoning can occur from a number of sources, but especially from fuel-burning appliances like gas furnaces, boilers, stoves, and water heaters. San Francisco Fire Code requires that they are installed in dwelling units and sleeping units where there are fuel-burning appliances, fireplaces, forced air furnace or in building with an attached private garage.
Our San Francisco Smoke Detector Contractor Provides
Smoke Detectors
Commercial Smoke Detectors
Hardwired Smoke Detectors
Residential Smoke Detectors

Installing Smoke Detectors
Smoke Detector Placement
Hardwired Smoke Detector
Wired Smoke Detectors

Smoke Detector Alarm
Best Smoke Detectors
Hard Wired Smoke Detectors
Electric Smoke Detectors
We Provide Smoke Detectors in the Following Areas
San Francisco, CA | Civic Center, SF | South of Market, SF | Financial District, SF | Potero Hill, CA | Cesar Chavez, SF | China Town , SF | Nob Hill, SF | Levenmorth , SF | Mission, SF | Dolores, SF | Potrero, SF | The Embardero , SF | Balboa Park, SF | Ocean View, SF | Noe Valley, SF | Duboce Triangle, SF | Anza Vista, SF | Golden Gate, SF | Pacific Heights, SF | Parside, SF | Sunset, SF | Wawona , SF | Haight Ashbury, SF | Fell, SF | Oak, SF | Fulton, SF | Presidio Heights, SF | Geary, SF | California, SF | Richmond, SF | Deacliff, SF | Marina, SF | Cow Hollow, SF | Lombard, SF | Bay, SF | Lyon, SF | Vellejo, SF | Bayview, SF | Evans, SF | West Portal, SF | Portola Dr, SF | Twin Peaks, SF | Market, SF | Lake Merced, SF | Lake Shore, SF | Slyline, SF | North Beach, SF | Jones, SF | Jackson, SF | Russian Hill, SF | Portola, SF | Madison, SF | Mansell, SF | Gladstone, SF | New Mission Terrace, CA
Recent Articles About Smoke Detectors
Smoke Detector Installation Locations and Positioning Requirements - Where to install a San Francisco smoke detector and its positioning are as important as having this life saving device installed at all. Placing a smoke detector in a wrong location might delay its response to smoke or even prevent it from sounding an alarm at all. Although, you should install smoke alarms by following [...]

The Different Types of Fire Alarms - Some people say that "it is better to fall prey to a thief than a fire". This is because a thief will take your possessions but leave your home intact while a fire will leave you with nothing. Fire can be very useful and is even a sign of man's ability to make use of [...]
---
Brookline Electrict Co. is Rated: 3 / 3
based on these 1 happy customer reviews.
---
"All of us here are incredibly happy that we found you to do the work."

- Aaron Smyth | Rated: 3 / 3
---
If you're looking for a professional San Francisco smoke detector contractor, then please call us today at 415-239-5393 or complete our online request form.