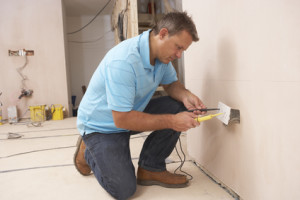 Whether you choose our company of professional Residential Electricians for your San Francisco home or not, be sure you find one to take care of your electrical service needs that has a great education with a lot of experience and the right local reputation.
When you own a home, you're responsible for all the repairs for your home including the electrical system that includes all the wiring, electrical components, panel box, and connections. All parts of your electrical system are dangerous to work on, which is why there are regulations that require a good education and experience to become licensed to make repairs or installations.
That means when you need help, you need an experienced licensed and insured electrician to perform the work for you. But that's not all you should be considering when looking for a San Francisco Residential Electrician you can trust.
Trust The Most Experienced Electrician, Not The Cheapest
As a homeowner, you can choose any San Francisco Residential Electrician you wish to work on your electrical system. You can go with an electrician that has less experience or you can go with an electrician that you are sure will be able to solve any electrical issues you have correctly the first time. Hiring any electrician who has the right credentials isn't the right priority because you can easily be paying for repairs or services that aren't really the problem. Saving money on a service call may seem like a great idea, but you should be asking yourself if you're really saving money.
Have you ever taken your vehicle in to be repaired but they were only able to keep fixing the same symptom and not the cause? So you finally take it to a more experienced mechanic that found the underlying issues right away? This same scenario can take place in any industry where you need a service that requires experience and education. Yes, the first repair company had the required credentials, but not the experience with better education.
Don't waste money on a less experienced electrician just because the price sounds right. You never really know if you can trust what they recommend. Consider all factors when you're trying to find a residential electrician for your home because you can actually save money with the right San Francisco Electrician even if their fees are a little higher.
Find A Reputable Electrician With The Right Background
Your home's electrical system is made of many parts that require a fully educated and experienced San Francisco Residential Electrician to work on them, true, but how long has the company you're considering been working in your area? What does the community have to say about their electrical services? Do they stand up to their guarantees? Simply put -how long has the electrician been in the industry?
Where To Find Local Residential Electricians With The Right Credentials & Reputation
Becoming a master electrician takes years of study and accomplishment. Along the way, our education and experience only multiplies. As in any service related industry, you simply can't have a successful long-term business unless you are providing the right type of service to your customers. Services that are trusted to be fair, honest, straight forward, and knowledgeable are key factors for you to consider.
At Brookline Electric Co., you'll find all this and more. Give us a call and let us know what we can do to earn your business.
Master California Electrician
Over 39 years Industry Experience
Fully Licensed and Insured Electrical Contractors
Weekend & Holidays 24/7 Emergency Electrical Services
Same Day Prompt Electrical Services
Rewiring Historic And Older Homes
Remodeling & Tenant Improvement Electrical Services
Respectable Local Owned Company
First Rate Customer Service
Expert Electrical Troubleshooting
If you're looking for a professional San Francisco electrical contractor, then please call us today at 415-239-5393 or complete our online request form.