About Our San Francisco Electrician
- Brookline Electric Co.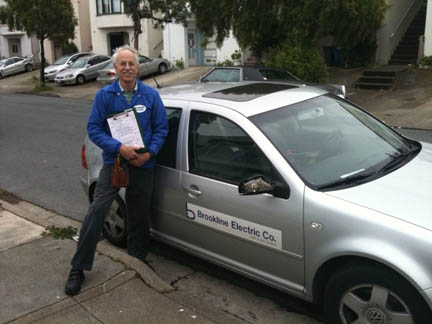 My name is John A. Peters and I have been in the San Francisco electrical contracting business for over 39 years. I specialize in rewiring Victorian, Edwardian and other San Francisco "Painted Ladies" as well as old homes, apartments and flats. My men have been practicing this line of work for so long that we are naturally good, neat and clean in our work. Nice homes need special care like the use of clear plastic painter's tarps to cover your valuables.
Big jobs - Kitchen and bathroom remodels, New meters and panels.
Small jobs - Providing power for a home office or installing a new 220 volt plug for a "dual fuel" oven, dryer or stove top.
Commercial work and tenant improvement projects for corporations downtown are good.  We added power for a computer room, when the client moved to a larger office.
Green Energy Saving Lighting -  Conversions take only 18 to 24 months to completely payback and we have full financing.
Service calls - Power restoration, emergencies and quick repairs are something I personally enjoy.  Somehow it is challenging and yet fun, to figure out what is causing the short or lost power without opening any more boxes than you have to. Every open box has to be closed again at the end of the job. 
After Hours I am happy to respond to after hours calls as there is less traffic and the music is better on the radio. I am available 24x7 for emergencies and power restoration on holidays, weekends and nights. After hours my San Francisco electricians are home but I am happy to respond to you.  I will get your power back on and schedule permanent repairs (if needed) for the next week day convenient for you.
My Cell: 415-239-5393
If you decide to call me as a result of your visit here on my web page it would be nice if you mention that fact.  Even better will be if you give me a suggestion on how to make the web site better for my clients.
Electrical Services in San Francisco
What San Francisco Homeowners Are Saying About Us
Great job! Mario was efficient, quiet, reliable and clean. Thanks also for the prompt instructions. --Larry CarverRead More
If you're looking for a professional San Francisco electrical contractor, then please call us today at 415-239-5393 or complete our online request form.